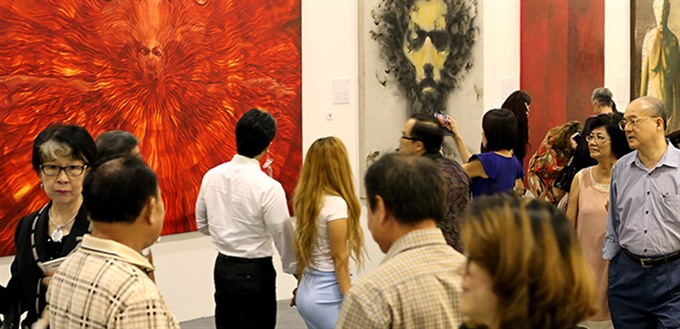 Large lacquer: The 2016 Malaysia Art Expo is a major annual art fair. This year's event at the Matrae Exhibition & Convention Centre from October 20 to 22 featured 60 booths from 30 countries. — Photo artexpomalaysia.com
Viet Nam News

A group of Vietnamese artists attended the 2016 Malaysia Art Expo last week, seeking to promote their country's lacquer paintings.

They took large lacquer works by contemporary artists Trần Phi Trương, Ngô Hải Yến, Hiền Nguyên, Nguyễn Đức Việt and Vũ Tuấn Dũng on themes like daily life in modern Việt Nam.

According to Vũ Tuấn Anh, director of Viet Art Space and a Vietnamese representative to the event, it is the first time that Việt Nam has participated in the art expo in Malaysia.

Việt Nam's lacquer works have been researched and collected, but not many people know about the genre, he said.

The Malaysia Art Expo is a major annual art fair. This year's event at the Matrae Exhibition & Convention Centre from October 20 to 22 featured 60 booths from 30 countries. — VNS